Madrid Design Festival: Tekiò at the bulthaup claudio coello showroom
Tekiò catches the eye and creates a feeling of warmth in the viewer.
Santa & Cole presented Tekiò, the Golden Delta-winning lamp for best indoor product (ADI-FAD, 2018), at German kitchen company Bulthaup's new shop/showroom in Madrid.

Santa & Cole co-founder and editor Nina Masó and vice-president José Mª Milá explained this unique lamp designed by London-based Anthony Dickens, highlighting its modular nature and the contrast it strikes between the ancestral and the cutting edge.

The aperitif that followed was designed by Miquel Àngel Vaquer for creative studio Wozere, inspired by the paper shapes of Tekiò's modules. This array of Asian nibbles transported us to the origins of Tekiò – to moments when we can stop and reflect.

Many thanks to all who joined us on this fabulous evening.

Tekiò, the Japanese word for adaptation, merges ancient artisan techniques with warm-to-dim LED technology that enables control of intensity and colour temperature. Teki? combines traditional and avant-garde in a unique and contemporary design, featuring modern lighting structures carefully dressed in handmade paper. Linear or circular shapes can be created by combining various modules.

London designer Anthony Dickens was inspired by the traditional Japanese lantern made from washi paper, which dates back to the 10th century and is now an everyday object in the life of the Japanese. The paper, used by Isamu Noguchi to create the famous Akari lamps, has been inscribed on UNESCO's List of the Intangible Cultural Heritage of Humanity. Washi is resilient and ductile, even malleable. It has a warm texture that filters in a soft, gentle light. Santa & Cole relies on the hands of experts in the Japanese city of Mito for manufacturing the paper, one of the regions specialized in its production.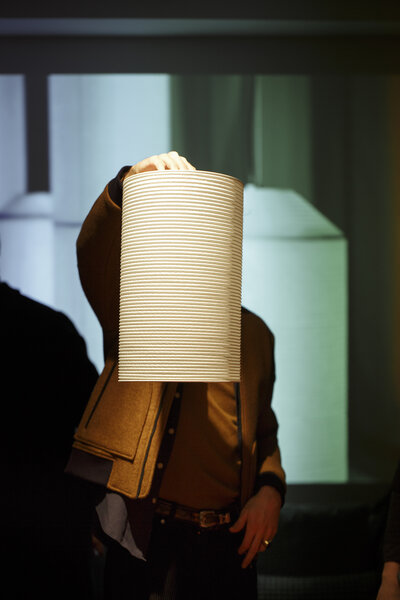 Madrid Design Festival: Tekiò at the bulthaup claudio coello showroom
Vaso, a design by Industrial Facility
14 of February 2019
Galería Santa & Cole - Barcelona, España