Duo
André Ricard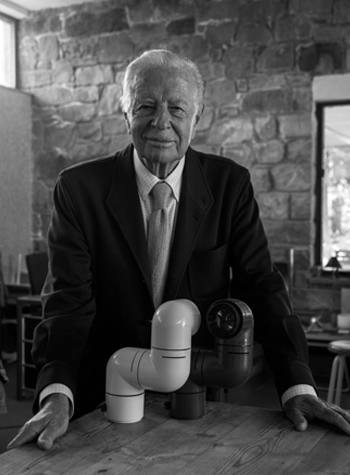 André Ricard
A pioneer and leading figure of industrial design in Spain, André Ricard has been instrumental in developing the discipline on both a social and business level. He has served as Chairman of the ADI- FAD (Association of Industrial Design of Fostering Arts and Design) and Founding Chairman of the ADP (Association of Professional Designers) amongst other important institutional positions.
Read more
|
1973
The Duo lamp was conceived by André Ricard for "executive desks", not only that good focal light was required when going through extensive paperwork, but also the fact that, in the face of visitors, the view of those who sat in the confidants' chairs should not be obstructed by a large or ostentatious lampshade. Duo fulfils both purposes seamlessly. It illuminates with proximity, and does not interrupt the visual horizon.
The luminous flux is adjustable by the independent rotation of its glass shades, which can be opaque to focus the light on the work surface, or translucent to provide a more general illumination too.
---
Dimension plane
Overview
Black metallic structure.
Orientable glass shade with two finishing options: opaque black or translucent white. 
Opal white interior shade.

Light sources
Recommended light source (not included):
2 x LED bulb: 6,5W.
Other light sources: Max. 40 W
Input voltage: 220-240 Vac.
(50 Hz / 60 Hz). Según destino.
Lamp holder: E12 (Max. height 115 mm / 4.5″)
We offer the possibility of adapting our products to the requirements of your contract project, modifying them to your needs. All customisations shall be studied upon request respecting the minimum quantity required. Contact us for customisations inqueries.