Wally
In the Wally lamp, the iconic globe-shaped shade from the Cesta family is supported by a metallic ring in white or black. It can be used indoors or out, the elegance of a true classic combining seamlessly with a fully modern line. A manifesto of Mediterranean culture.
White opal glass lampshade.
Suitable for outdoor use.
Suitable for Outlet Box (UL market).
Customisations
Available modifications:
Polyethylene diffuser.
Other structure finishes available
These and other customisations shall be studied upon request respecting the minimum quantity required.
Contact us
to resquest your customisation.
Overview


Metallic structure finished in matte black or matte white.
White opal glass lampshade.
Suitable for indoor and outdoor use.
Suitable for Outlet Box (UL market).


Light Sources
Recommended light source (not included):
LED bulb: 4,5W.
Other light sources: Max. 40 W
Input voltage: 100, 120, 230 Vac. (50 Hz / 60 Hz). According to destination.
Bulb socket: E26 (Max. hgt. 105 mm / 4.1")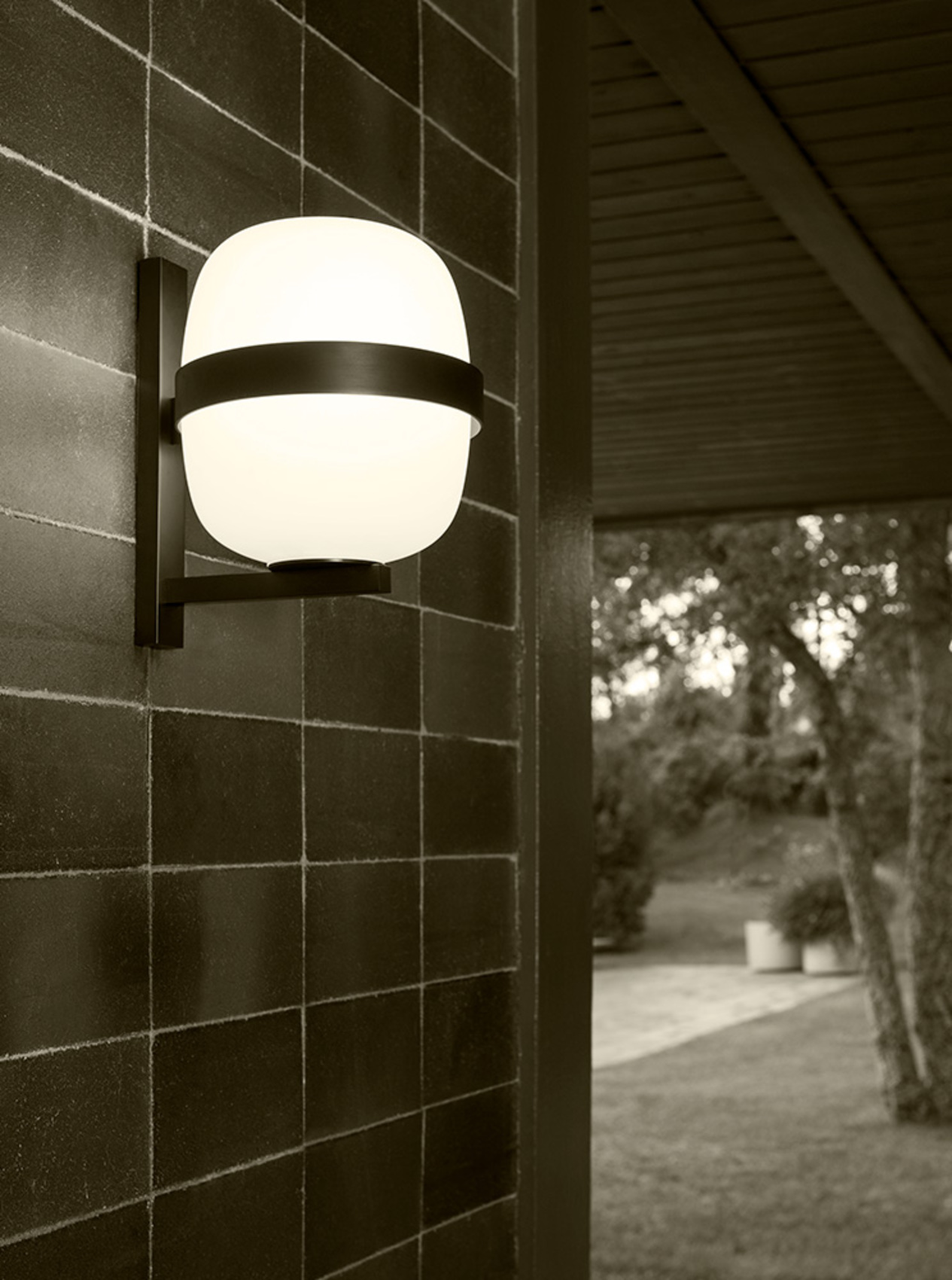 Mediterranean well-being
Strolling through Barcelona in the 1960s, designer Miguel Milá found an abandoned opal globe in front of a glass factory. He picked it up, and over the years, it became the heart of this large family. As its name suggests, Cesta (Spanish for "basket"), was designed to hold this fragile piece.
Designed in the same year as the Cesta lamps, Wally is an iconic wall lamp that shares the same opal globe shape and formal elegance. The structure, available in matt white or matt black finishes, is fixed to the wall via a metal arm and ring that wrap around and support the glass shade.
The Wally wall lamp adds a distinguishing touch to any setting. It provides a diffuse and soft illumination for both indoor and outdoor spaces.
The Cesta family is made up of the Cesta, Cestita, Cestita Batería, Cestita Alubat, Cesta Metálica, and Cestita Metálica table lamps, the Wally wall lamp, and the Globo Cesta and Globo Cestita pendant lamps, symbols of Mediterranean warmth and well-being. These masterpieces by Miguel Milá are part of our Design Classics collection, a series of objects created throughout the Modernist era.
Miguel Milá
1931
Miguel Milà, industrial and interior designer, inventor and bricoleur, began his career in the 1950s, and soon became a pioneer of Spanish design. To overcome the scarcity of resources at the time, he decided to design his own pieces. He soon began to produce objects at his company Tramo (Trabajos Molestos), and they remain true contemporary classics today.

In 2016, the Ministry of Education and Culture awarded him the Gold Medal for Merit in Fine Arts.




Miguel Milá
1931
Miguel Milà, industrial and interior designer, inventor and bricoleur, began his career in the 1950s, and soon became a pioneer of Spanish design. To overcome the scarcity of resources at the time, he decided to design his own pieces. He soon began to produce objects at his company Tramo (Trabajos Molestos), and they remain true contemporary classics today. In 2016, the Ministry of Education and Culture awarded him the Gold Medal for Merit in Fine Arts.
Read more