1992
Estadio
Miguel Milá
Originally designed for the 1992 Olympic Games in Barcelona, this elegant crown of light ennobles a public space. Conceptually, it is reminiscent of the huge cast iron chandeliers with a sequence of candles often seen in medieval castles and cathedrals. The frame is a tubular structure the visible sides of which are made of sections of glass blocks.
Read more
Black metal structure with glass block lampshade.
1 support hanging system.
Stainless steel structure hanging system.
Satin nickel canopy included.
This fixture must be mounted or supported independently of a Junction Box (UL market).
Weight: 93 kg / 205 lb


Electric cable length: 4 m / 157.5".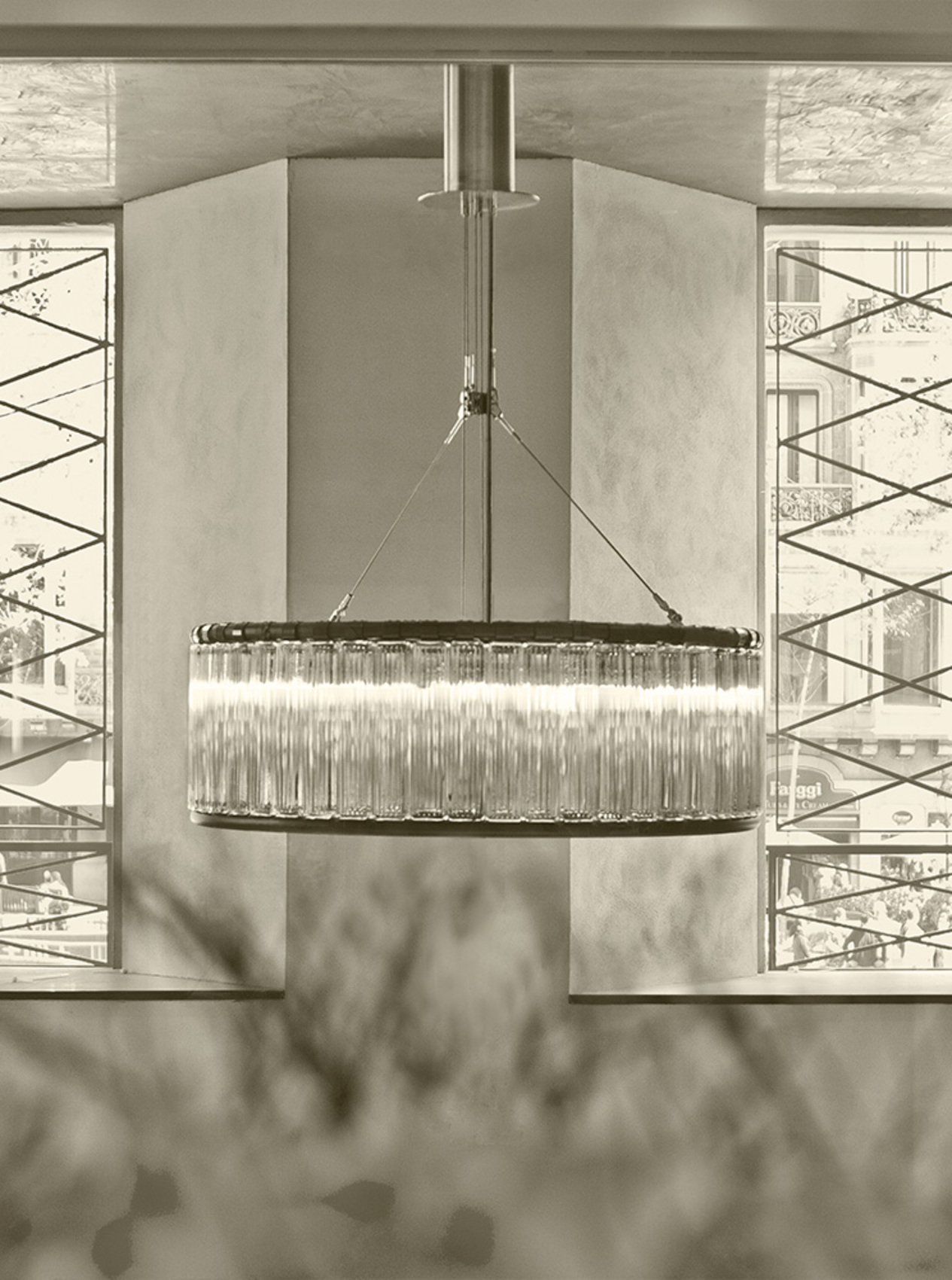 Olympic circularity
Miguel Milá designed Estadio for the 1992 Barcelona Olympic Games. The Estadio pendant is reminiscent of medieval chandeliers found in palaces and cathedrals.
Formed by an elegant crown of sparkling glass, Estadio has a strong presence. The glass blocks, which are held within a tubular metal structure, disperse the light by means of vertical rays and shadows.
The Estadio family features various suspension diameters and is completed with the linear version Línea Estadio, and the convex Estadio wall lamp.
Miguel Milá. Industrial and interior designer, inventeur and bricoleur. 
Miguel Milá
1931
Miguel Milà, industrial and interior designer, inventor and bricoleur, began his career in the 1950s, and soon became a pioneer of Spanish design. To overcome the scarcity of resources at the time, he decided to design his own pieces. He soon began to produce objects at his company Tramo (Trabajos Modestos), and they remain true contemporary classics today. In 2016, the Ministry of

Education and Culture awarded him the Gold Medal for Merit in Fine Arts.


Read more