2017
Cirio Cascada
Antoni Arola
A bright and ornamental braid of cascading light to illuminate areas with different ceiling heights, stairwells or special corners. Its LED light source makes it compatible with a range of shades: from the crafted porcelain of Sargadelos (Galicia, Spain) suitable for the most admirable lightings, to translucent opal glass for stronger and more economical lighting, and the opaque elegance of brass for spotlighting.
Read more
Dimming 1-10v.
Capsule with LED module, translucent white diffuser and heat sink with black matte finish.
Black metal circular canopy + power supply 5 light sources.
Suitable for dimming 1-10V / DALI. (Not included external dimmer switch 1-10V / DALI).
Suitable for Junction Box (UL market).
Weight (with porcelain lampshade): 3 m: 7 Kg / 15.5 Ib
Weight (with porcelain lampshade): 8 m: 8 Kg / 17.6 Ib. Weight lampshades: porcelain: 0,5 kg / 1.1 lb, glass: 0,6 kg / 1.3 lb , brass: 0,3 Kg / 0.7 lb
Electric cable length: 3 m / 118.1" - 8 m / 315".
Light sources included (dimmable)


The vertical symphony
Inspired by the majestic lamps of the Blue Mosque in Istanbul, Antoni Arola designed Cirio in 2010. Today, the family has expanded and is presented as a system which can easily be set in a variety of compositions.
The shade, beautifully designed, is reminiscent of a candle for its shape, texture and the warmth of its light. The varying shades combined with LED capsules can be used to create different atmospheres: from the porcelain of Sargadelos (Galicia, Spain) that creates candle-like warmth, to translucent opal glass, and the opaque elegance of brass.
Cirio Cascada features a compact, ornamental design. This shimmering cascade of light lends a warm atmosphere to large spaces; ideal for staircases and high ceilings of different heights.
Cirio is a system that provides customisable solutions for verti­cal lighting by combining structures, shades and light textures. The pendant lamp can be used alone or arranged in rows or clusters to illuminate larger areas, in forms such as the Chandelier, Cascada, Circular, Lineal, Oval or Múltiple. A perfect combination of repeated elements. The fusion of technology and tradition; innovation through craftsmanship. A truly unique lighting experience.
Antoni Arola
1960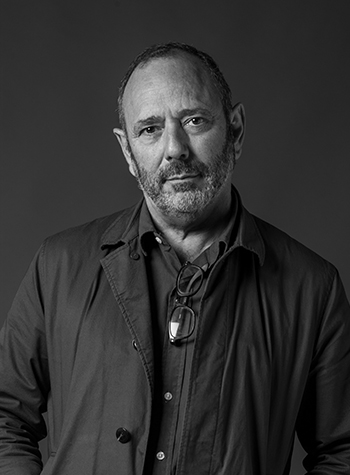 Antoni Arola, winner of the 2003 National Design Award, is a distinguished figure of Spain's current design scene. His versatile work ranges from creating a perfume flacon or a lamp to interior designs of important present-day venues. Arola's evocative approach towards life and space give him an enduring place at Santa & Cole.