2013
BlancoWhite Golden Gate
Antoni Arola
The BlancoWhite series is distinguished by the use of an ultra-slim, 1 cm-thick metallic plate that determines the section of the entire structure. This rectangular version, known as Golden Gate in reference to the famous San Francisco bridge, features a height-adjustable counterweight to better guide the gaze.
Read more
Graphite metal structure with matte finish. Rectangular metal canopy with power supply incorporated.
Suitable for dimming 1-10V. (Not included external dimmer switch 1-10V)
Includes counterweight to adjust height.
Suitable for Junction Box (UL market).
Weight: 17,5 kg / 38.5 lb


Electric cable length: 3 m / 118.1".



Light source included (dimmable)


The ideogram of a bridge
In 2011, Antoni Arola designed the BlancoWhite family, combining smart LED lighting with minimalist, clean lines. A series of tabletop bookcases, luminous shelves, hallway wall lights and ultra-thin pendant lights.
A 1 cm-thick metallic structure with graphite matt finish houses a smart LED plate (using a Dot Cut- ting system) that distributes dots across the light surface. The dots become gradually more concave the further they are from the source, creating a harmonious light flow. Like the famous suspension bridge in San Francisco, Golden Gate brings together sweeping distances with seeming ease. A majestic height-adjustable lamp with a rectangular counterweight, a discreet presence providing high lighting comfort. Suitable for meeting spaces or large dining-room tables.
Antoni Arola
1960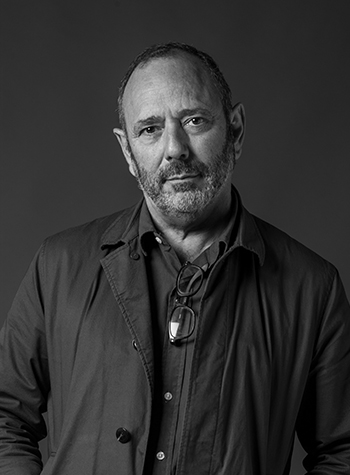 Antoni Arola was awarded the Spanish National Design Prize in 2003, and he is recognised as one of the most outstanding members of Spanish design. His common-sense approach has allowed him to create a range of brilliant designs, from a perfume bottle to a lamp, to large scale interior design projects. Arola finds a symbolism and a way of understanding the universe through foreign cultures, such

as African cultures, which he incorporates into his work and his daily life. His works also show his sculptural savoir-faire, his love for drawing and his interest for contemporary art.


Read more