Cestita Metálica
Miguel Milá learned to master the expressiveness of steel by giving it a fragile heart. Strength and emotion, angle and curve. With the constructive singularity of its older sibling, ennobling whatever it illuminates, Cestita Metálica does not feature a handle, thereby signalling its willingness to stay wherever it is placed.
Stainless steel structure. White opal glass lampshade.
Dimmer included.
Cestita Metálica
Drawings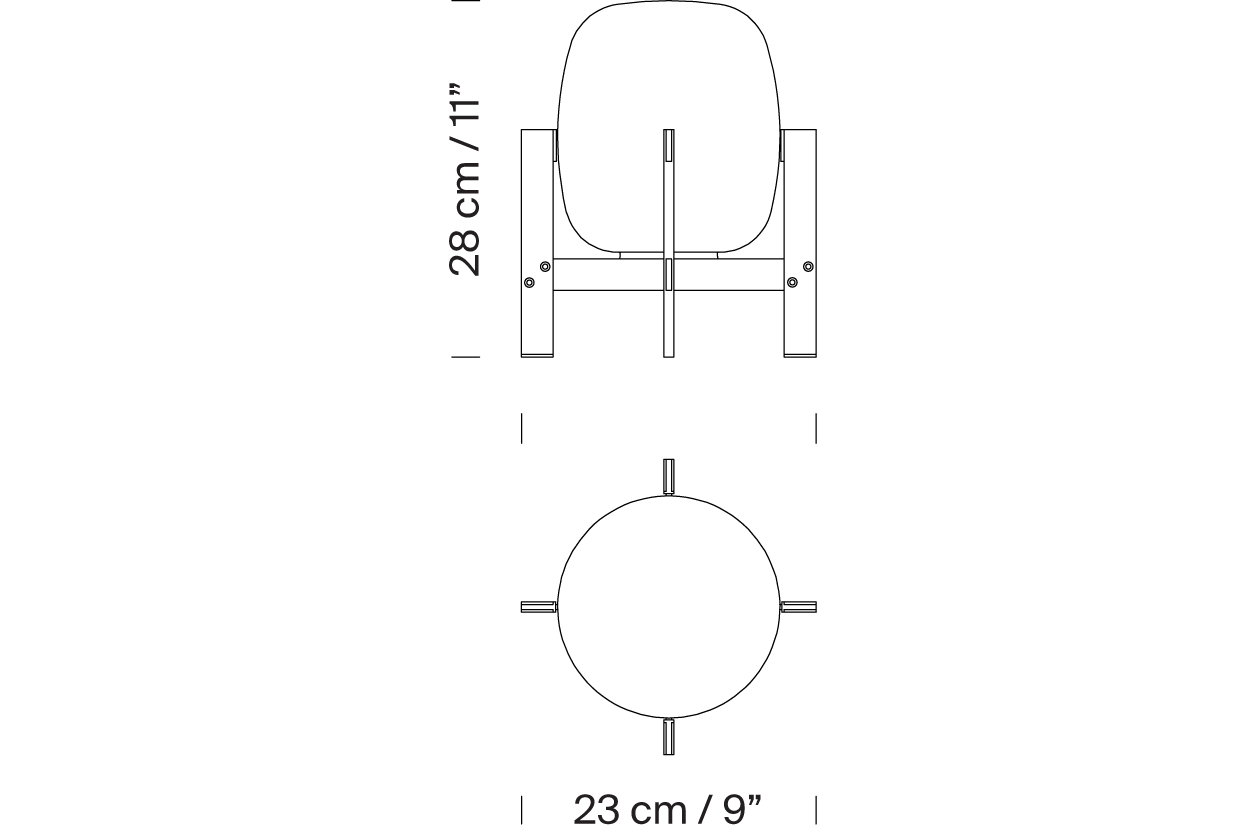 Customisations
Available modifications:
Polyethylene diffuser.
These and other customisations shall be studied upon request respecting the minimum quantity required.
Contact us
to resquest your customisation.
Overview



Stainless steel structure. 
White opal glass lampshade.
Dimmer included.


Light Sources
Recommended dimmable light source (not included):
LED bulb: 4,5W.
Other light sources: Max. 40 W
Input voltage: 100, 120, 230 Vac. (50 Hz / 60 Hz). According to destination.
Bulb socket: E26 (Max. hgt. 105 mm / 4.1")
A duel between strength and fragility
The Cestita Metálica is meant to stay put, hence its lack of a handle. Miguel Milá mastered the strength of steel by placing at its centre a delicate opal glass silhouette. A seamless expression of strength and emotion, combined with everyday practicality. Just like its bigger sister, the Cestita can be positioned in any corner or shelf, enhancing everything it illuminates.
The lantern is produced and assembled manually by European craftsmen, using traditional glass blowing techniques for its opal shade.
The Cesta family is made up of the Cesta, Cestita, Cestita Batería, Cestita Alubat, Cesta Metálica, and Cestita Metálica table lamps, the Wally wall lamp, and the Globo Cesta and Globo Cestita pendant lamps, symbols of Mediterranean warmth and well-being. These masterpieces by Miguel Milá are part of our Design Classics collection, a series of objects created throughout the Modernist era.
Miguel Milá
1931
Miguel Milà, industrial and interior designer, inventor and bricoleur, began his career in the 1950s, and soon became a pioneer of Spanish design. To overcome the scarcity of resources at the time, he decided to design his own pieces. He soon began to produce objects at his company Tramo (Trabajos Molestos), and they remain true contemporary classics today.

In 2016, the Ministry of Education and Culture awarded him the Gold Medal for Merit in Fine Arts.




Miguel Milá
1931
Miguel Milà, industrial and interior designer, inventor and bricoleur, began his career in the 1950s, and soon became a pioneer of Spanish design. To overcome the scarcity of resources at the time, he decided to design his own pieces. He soon began to produce objects at his company Tramo (Trabajos Molestos), and they remain true contemporary classics today. In 2016, the Ministry of Education and Culture awarded him the Gold Medal for Merit in Fine Arts.
Read more