Americana
Miguel Milá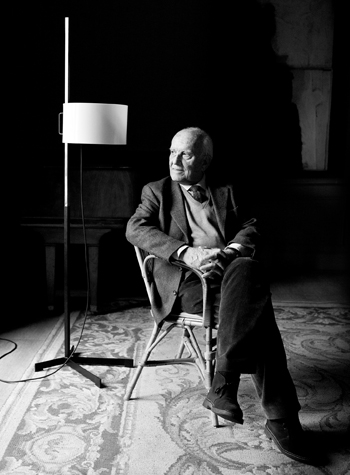 Miguel Milá
Miguel Milá, diseñador pre-industrial e interiorista, inventor y bricoleur, inició su carrera en los años 50 siendo uno de los pioneros de la disciplina en España. Ante la escasez de objetos, medios y materias primas de la época, empezó a diseñar sus propios muebles y lámparas, que no tardó en producir a través de su empresa Tramo (Tra-bajos Mo-lestos), permaneciendo como verdaderos clásicos contemporáneos hasta la actualidad. En 2016, el Ministerio de Educación y Cultura le concedió la Medalla de Oro al Mérito en las Bellas Artes. Tiene muchos premios ADI (Barcelona), el primer Premio Nacional de Diseño (ex aequo con André Ricard) y ha merecido el Compasso d'Oro de ADI (Milán) a su carrera.
Read more
|
1964
The Americana series is built around a satin nickel rotating arm holding an elegant white linen shade. The arm gently swivels the light nearer or further away, while the wide metal base stays put, in an evocation of the harmonic motion of swing dancing.
---
Dimension plane
Overview
Satin nickel structure with rotating arm.
White linen lampshade.
Light sources
Recommended light source (not included):
LED bulb: 4,5W.
Other light sources: Max. 60 W
Input voltage: 100, 120, 230 Vac. (50 Hz / 60 Hz). According to destination.
Bulb socket: E26 (Max. hgt. 105 mm / 4.1")
We offer the possibility of adapting our products to the requirements of your contract project, modifying them to your needs. All customisations shall be studied upon request respecting the minimum quantity required. Contact us for customisations inqueries.