Customisations
Available modifications:
Polyethylene diffuser.
These and other customisations shall be studied upon request respecting the minimum quantity required.
Contact us
to resquest your customisation.
Overview

Cherry wood structure.
White opal glass or white opal polyehtylene lampshade.
Switch incorporated into the luminaire with 3 intensity levels.
Lithium battery.
Range: 5h on high power / 12h on medium power / 24h on minimum power.
Includes charger.
Battery charging time: 6.5h
To prevent wood degradation, the lamp should not be left outdoors permanently.


Light Sources
Light source included (dimmable):
Built-in LED. Output 2,5W. / Input: 100 ~ 240 Vac. (50 Hz / 60 Hz). According to destination.
Tª Colour: 2.200 K
Typical CRI: 90
Lifetime: 40.000 h
Luminous flux: 313 lm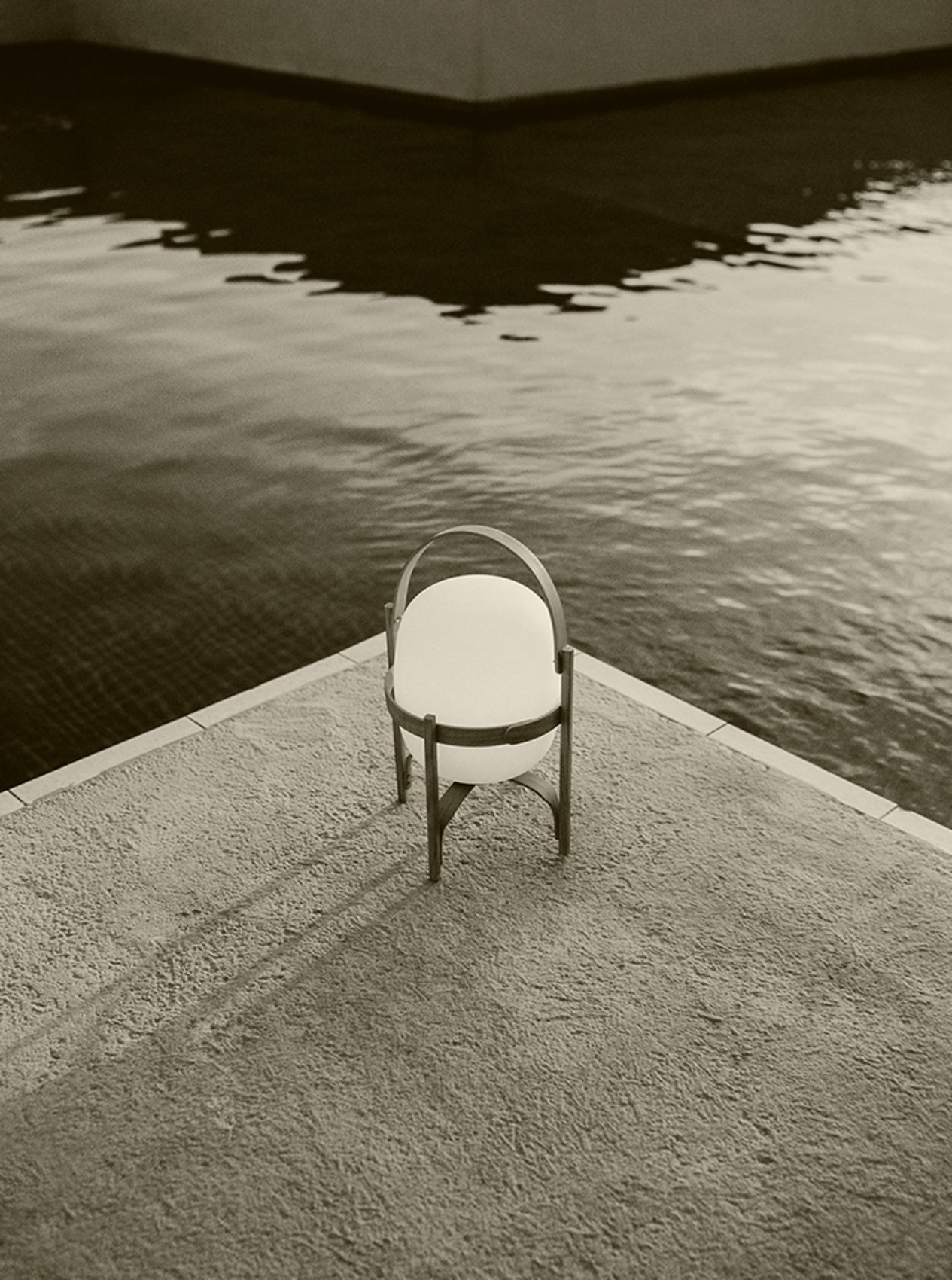 An object-lamp to take with you
Cestita Batería is the new member of the Cesta family: a portable, cordless version. As with all of Milá's objects, this version champions industrial craftsmanship, by combining functionalism and the legacy of local artisan creation. With this new version, the lamp's features are enhanced with the help of technology. Keeping with the family's warmth and spirit, it features an opal glass shade supported by a beautiful cherry wooden structure. It is produced and assembled manually by European craftsmen, using traditional, steam bending techniques for the wood, and glassblowing techniques for its opal shade. Cestita Batería is a lantern that creates a beautiful ambience anywhere; depicting Chinese shadows in the garden, or emanating light from any corner.
The lamp aligns with the spirit of TRAMO the company Milá founded to produce his own work: simple and essential objects of all kinds, that make a house feel like a home.
The Cesta family is made up of the Cesta, Cestita, Cestita Batería, Cestita Alubat, Cesta Metálica, and Cestita Metálica table lamps, the Wally wall lamp, and the Globo Cesta and Globo Cestita pendant lamps, symbols of Mediterranean warmth and well-being. These masterpieces by Miguel Milá are part of our Design Classics collection, a series of objects created throughout the Modernist era.
Miguel Milá
1931
Miguel Milà, industrial and interior designer, inventor and bricoleur, began his career in the 1950s, and soon became a pioneer of Spanish design. To overcome the scarcity of resources at the time, he decided to design his own pieces. He soon began to produce objects at his company Tramo (Trabajos Modestos), and they remain true contemporary classics today.

In 2016, the Ministry of Education and Culture awarded him the Gold Medal for Merit in Fine Arts.




Miguel Milá
1931
Miguel Milà, industrial and interior designer, inventor and bricoleur, began his career in the 1950s, and soon became a pioneer of Spanish design. To overcome the scarcity of resources at the time, he decided to design his own pieces. He soon began to produce objects at his company Tramo (Trabajos Modestos), and they remain true contemporary classics today. In 2016, the Ministry of Education and Culture awarded him the Gold Medal for Merit in Fine Arts.
Read more