In 1956, when Arne Jacobsen was commissioned by Scandinavian Airlines (SAS) to erect a multi-purpose tower in the centre of Copenhagen (an airline terminal, a travel agency and a hotel), from the outset he conceived a Gesamtkunstwerk, an all-embracing art form for which he designed not only the remarkable building but every detail inside, including furniture (such as the Swan chair and the renowned Egg armchair), upholstery, tableware, door handles, and so on. He also designed this elegant lamp that was used both in the lobby and the lounges, and indeed in every room of what would later be the SAS Royal Hotel.

On the floor the cast base mirrors the elliptical shape of the white lightweight linen shade, gripping onto the stainless steel shaft. A chain hangs from the bottom of the shade to allow the two bulbs, one facing downwards and the other upwards, to be switched on in any combination (one, the other, both together or neither). This perfectly conveys the train of thought of its creator: "efficiency plus functionality equals style".
Arne Jacobsen
1902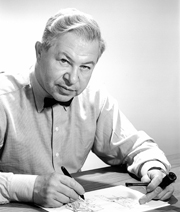 Arne Jacobsen is considered one of the fathers of Danish modern design. His work is one of the most personal and productive interpretations of Functionalism. Mixing it with Danish traditional aesthetic style, he achieved to create a modern and contemporary style.