2005
TMD
Miguel Milá
With a structure supported by a circular metal base, the while linen shade of the TMD lamp looks like a sail hoisted on a mast. Whether switched on or off, the TMD manages to add warmth to the space around it. Another example of the timeless sobriety of Miguel Milá.
Read more
Satin nickel structure.
Height-adjustable white linen lampshade.
The lampshade is delivered with cable, bulb socket and fastening system to the structure.
The light is switched on /off by pulling lightly on the cable.

Contact us for further details on the specifics of product versions for contract projects.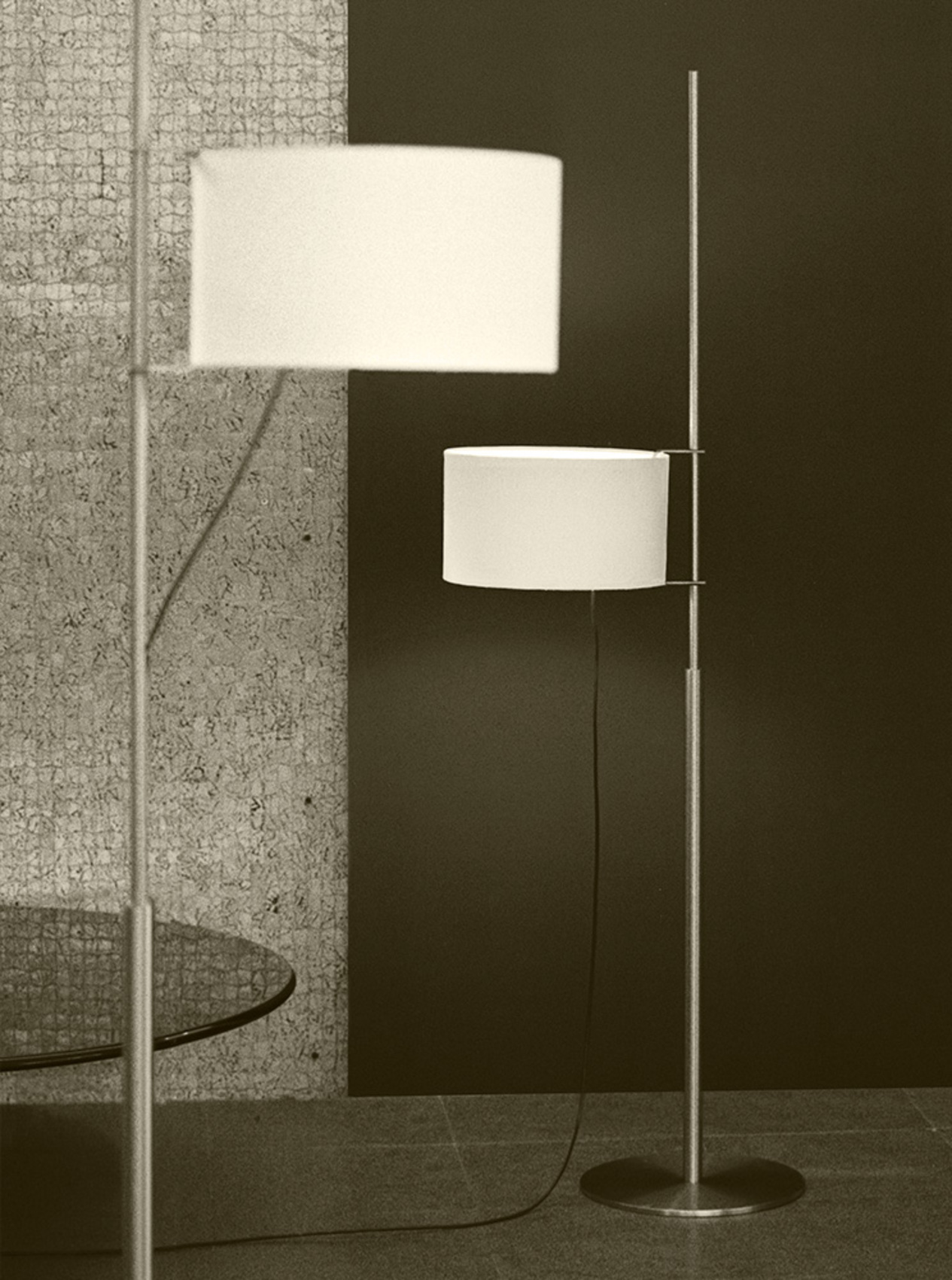 A shade that is hoisted like a sail on a mast
Based on his famous TMM lamp, Miguel Milá designed the TMD version replacing wood with metal. The designer came up with the idea of a shade that is raised like a sail up a mast. In order to reduce the number of sections, he replaced wood with metal and the cross-shaped base for a circular one. The inventive engineering remains the same; the shade's height is adjustable via a rubber band stopper, and the light is switched on/off by pulling lightly on the cable. The elegant lampshade, made of white linen fabric, creates a warm ambient light. This exquisite blend of shapes and materials makes for an inviting, contemplative space, even with the light turned off.
Miguel Milá. Industrial and interior designer, inventeur and bricoleur. 
Miguel Milá
1931
Miguel Milá, an interior designer, inventor and bricoleur, and a pioneer in his field in Spain, began working in the 1950s. With objects, resources and raw materials hard to come by at that time, Milá started designing his own furniture and lamps and soon set up his own company, Tramo (from the Spanish Tra-bajos Mo-lestos, 'Annoying Jobs'). Many of his pieces have become true contemporary

classics. In 2016, the Spanish Ministry of Education and Culture in Spain awarded him the Gold Medal for Merit in Fine Arts. He has won numerous ADI awards (Barcelona), the first Spanish National Design Award (tied with André Ricard), and the ADI Compasso d'Oro for Lifetime Achievements.


Read more