Robert Heritage
Birmingham, 1927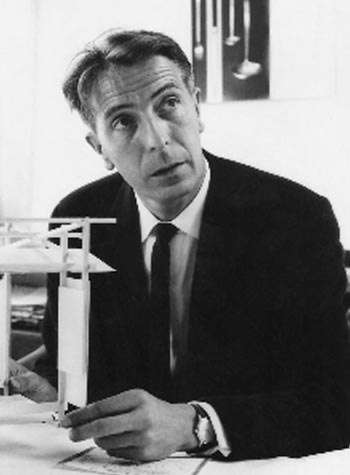 Robert Heritage, the British designer to have won the greatest number of Design Council awards, designed the furniture for the Queen Elizabeth II ocean liner in 1968 together with Ernest Race. In 1953 he founded his own studio where he designed furniture and lamps for well-known British brands. He also taught furniture design at the Royal College of Art in London.
Robert Heritage is a post-war contemporary English artist born in 1927 in Birmingham. He began studying art in his hometown, but continued his training in London from 1948 to 1952, at the Royal College of Art. In 1953, he set up his own studio, specialising in furniture and lighting design for British and foreign companies. In his early days, he turned to lighting, working for the renowned lighting manufacturer Concord Lighting Limited. His directional spotlights have been widely imitated, and his proposal to use them in the domestic environment soon caught on internationally.
His emblematic designs include the QE2 aluminium chair for Race Furniture, a technologically innovative piece of furniture that received the Council of Industrial Design award in 1969; the hi-tech Pan Parabolic lamp in 1973 for Concord; or the 1979 Subeybaja, a table that can be height-adjusted to seven positions to meet different day-to-day needs, designed with Roger Webb and currently edited by Santa & Cole.
Robert Heritage was also a lecturer in furniture design at the Royal College of Art in London. Inventor and enthusiast, Robert Heritage has been the most awarded designer in the history of the Design Council.