Ramón Bigas
Barcelona, 1941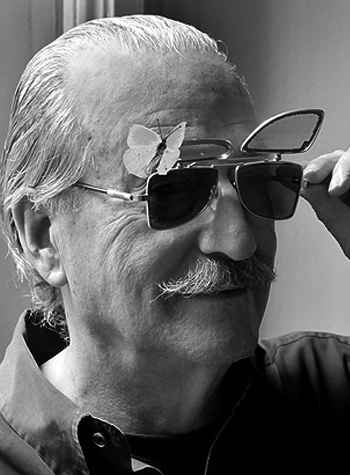 Ramón Bigas is an example of a multidisciplinary creative who zigzags between everyday design and monumental design. His works include the Spanish high-speed train (AVE), the Ramón chair, edited by Santa & Cole, and the cauldron for the Olympic flame at the 1992 Barcelona Olympic Games. He has carried out projects in industrial design, interior design, graphics, and exhibitions. He was also president of the FAD (Fomento de Artes y Diseño) between 1995 and 2001.
Born in Barcelona in 1941, Ramón Bigas is a towering figure in Spanish design. He began studying Physics at the University of Barcelona but decided to change track and explore artistic creation. Since 1958, he has been designing everyday objects, having founded AD (Associate Designers) with Pep Sant. The company, made up of a multidisciplinary team, quickly became one of the most acclaimed design companies in Europe. As a result, Bigas made a leap as a designer, taking on more complex projects and receiving design students such as Antoni Arola to learn from his projects.
Notable among his industrial design projects is the Spanish high-speed train (AVE): a milestone in the world of transport, signalling a key point in Bigas' professional career. He set out to break with the established image of Spanish trains, which at the time was absolutely outdated compared to other European countries. Another of his landmark commissions was the cauldron for the Olympic flame of the Barcelona Olympic Games in 1992.
He has also carried out interior design projects and created countless exhibitions, as well as tables and lamps, and even a vast repertoire of Christmas lights for the city of Barcelona. Some of his more everyday objects include the Micro lamp and a minimalist tabletop halogen "giraffe" lamp. For Santa & Cole, he designed the Ramón chair, distinguished by its light metallic structure and handmade wicker seat, which remains in the catalogue today.
Ramón Bigas says that a job well done is the most important part of his discipline, beyond artistic inspiration. "The designer is not an inventor; he is a figure who makes ideas achievable. This is the praxis of design," he says. Bigas sees design as the intermediate step between the most rational and the most formal part of the object, that is to say, its aesthetics. Bigas reduces the complexity of design to a problem of order and clarifies that the key is to break down all the components that surround the product. Once they are all understood and aligned, beauty is achieved. It was with this ideology that he became president of the FAD from 1995 to 2001.
By means of functional and intuitive work, Ramón Bigas exposes his plastic plurality, from his contribution to the world of transport to his presence in the Olympic movement.