Míriam Dema
Barcelona, 1995
Lives and works in Valldoreix, Barcelona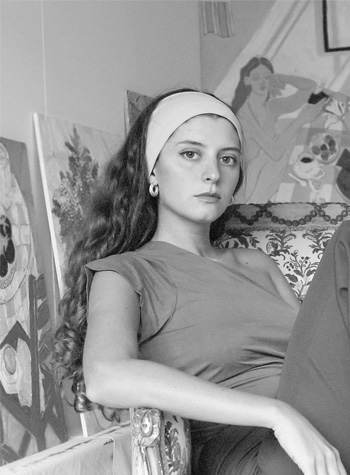 Miriam Dema graduated in Fine Arts at the University of Barcelona in 2017, where she explored several disciplines before focusing on painting. From an early age she spent much of her time painting and drawing, although she did not harbour any professional ambitions until sometime after finishing her degree.
In the course of her studies, Miriam Dema experienced an emotional block that led her to stop painting and instead focus on other disciplines and languages such as conceptual art and cooking. When she finished her degree, she decided to move to Lima (Peru) with the idea of studying Peruvian cuisine. However, being far from home and with the stimuli of such a different environment helped her to find a pictorial language that characterises her work to this day.
Dema finds inspiration in people and in our way of relating, gesturing and showing affection. The human need to share and the creativity to find a way to do it. She uses cooking and food as a tool to create, nurture and transform the relations, colours and textures of nature.
Miriam Dema's work is a tribute to the beauty of imperfection and the generosity of life in moments of splendour, referring to two concepts around which her work revolves. On the one hand, the attraction for small irregularities, such as those that can be found in craftsmanship, the imprint of the passage of time on a wall or the clutter of a table. Dema sees this as a window onto different realities and memories, experiencing them as raw beauty, intrinsic not only in their historical burden, but also in their emotional charge. Thus, she seeks to represent the presence of humans in everyday elements and nature, depicting scenarios that evoke warmth and relaxation and include elements of Mediterranean culture
Miriam Dema is passionate about wax crayons and oil pastels, because of their imprecision and roughness. She enjoys the randomness they bring to drawing, as well as their nostalgic and childish connotation. Dema usually works with oil paint on wooden boards, on which she paints her works intuitively and from memory, applying partially uncovered layers and vibrant colours. Her construction of each piece is thus very similar to her manner of recall: layered, free and idealised. This results in energetic works rich in nuances and textures, in which observers glimpse a part of the process in the final outcome, understanding art as a dialogue with oneself and with the world.
In her dynamic compositions, elements entwined with happiness play freely, such as shared tables, flower vases and fresh fruit, as in the Neoseries: Frutero de Agosto (August Fruit Bowl, 2020), Crisantemos en la terraza (Chrysanthemums on the Terrace, 2020) and Merienda de confinamiento (Lockdown Snack, 2020). The synthesis of shapes and the play of perspectives combine with the lightness of the artist's constructed memories to give her works a fresh and naïve air.
Miriam Dema currently lives and works in Barcelona.