Jordi Garcés
Barcelona, 1945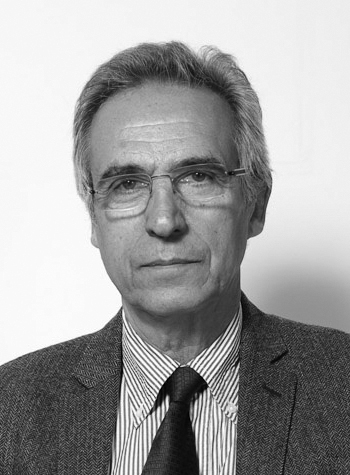 Jordi Garcés met Enric Sòria at Oriol Bohigas' studio, where the two laid the groundwork of rationalism in Spain and worked together to design numerous civic projects for the city of Barcelona. These include the Vall d'Hebrón Sports Centre project (1991), for which they won the FAD architecture award, and the Rubió i Balaguer Agora at Pompeu Fabra University. Their most recent work is the extension of the Picasso Museum in 2010. Jordi Garcés also taught at renowned schools in Barcelona (such as ETSAB or EINA) and abroad.
Born in 1945, Jordi Garcés graduated from Barcelona's School of Architecture (ETSAB) in 1970. While studying, he worked at the studio of Oriol Bohigas, where he met Enric Sòria with whom he collaborated until 1996. Together, they laid the groundwork of rationalism, advocating the geometry of architecture and the functionalities of its composition. Notable among their first projects are museum designs, including the conversion of the old Santa Lucía asylum into the CosmoCaixa science museum (1978-1980) and the design of the Picasso Museum (1981-1987). Later, they were involved in cultural and sports projects such as that of Vall d'Hebrón (1990-1991) for which they were awarded the FAD Architecture Prize in 1991. The partnership also designed the IMAX cinemas (1993-1994) and the Agora Rubió i Balaguer on the Ciutadella campus of Pompeu Fabra University in 1994, winning the City of Barcelona Award for Architecture and Urban Planning in 1996.
In the early days of the Garcés-Sòria partnership, they designed the Sylvestrina table lamp, an electrified oil lamp with cable and switch. The Sylvestrina is considered a design classic and in 2019, Santa & Cole edited it, making it into a portable lamp equipped with a rechargeable battery.
Jordi Garcés also became involved in education, teaching architectural project courses at EINA from 1971 to 1973 and at ETSAB from 1975 to 2015. In 1987, Garcés received a PhD in Architecture from the Polytechnic University of Catalonia (now BarcelonaTech), where he has been a professor of projects since 1990. Internationally, Garcés has been a visiting professor at École Polytéchnique Fédérale de Lausanne (Switzerland).
In 2010, Jordi Garcés designed the extension of the Picasso Museum that he had refurbished 30 years earlier. He currently works in an architectural studio where he designs public infrastructure and other buildings, including metro stations, civic centres and schools, both in Spain and abroad.