Gabriel Ordeig Cole
Londres, 1954-1994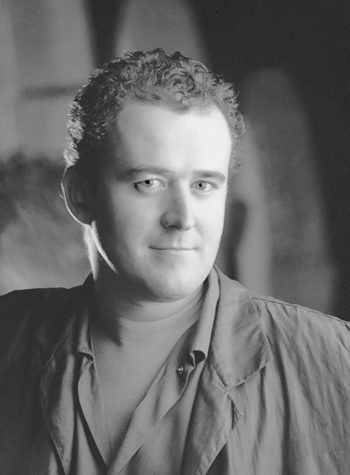 Gabriel Ordeig Cole founded Santa & Cole in 1985, together with Nina Masó and Javier Nieto Santa. Ordeig's artistic background, Anglo-Saxon origin and Mediterranean temperament made him a unique designer, endowed with a special gift: his command of light. He applied this talent to musical stages and subtle interiors alike. He knew how to present light, dressing it for the occasion in spaces that transcended the senses.   
Born in London to a Catalan father and an English mother, Gabriel Ordeig Cole moved to Barcelona with his family in 1960. He began studying Philosophy at university, but soon changed tack to pursue a BA at East Ham College (1974) and Cardiff Arts School (1975-1978), in the UK.
Having completed his studies, in 1978 he returned to Barcelona and joined some friends to found Free Difusión, a music promoter of groups such as Los Peruchos or Los Psicópatas del Norte. He gradually began to design concert sets. Before long, he met the designer Carles Riart with whom he worked as assistant decorator in Bigas Luna's film Caniche: "Carles suggested we work together, and that was when I began to do interior decoration and then design. I picked it up as I went," Ordeig said. He and Riart edited and produced the Colilla lamp while at Comercial Estelar, a company the two managed.
Gabriel Ordeig carried out many interior design projects, including the offices of Group Films (1983), and lighting projects in bars and nightclubs in Barcelona such as Boliche, La Xampanyeria or El Café del Sol. He also did the lighting for the restaurants Al Dente (together with Nina Masó, 1982) and Fonda Europa (Granollers) - for which he created the Fonda lamp and the Fonda System, in 1994. And Ordeig designed the Bijou cocktail bar, shortlisted for the FAD awards in 1983, and the Sísísí bar, which gave rise to the Sísísí rosette pendant lamp, edited by Santa & Cole.    
In 1985, in an initiative that helped revive and internationalise Barcelona's design scene, Gabriel Ordeig, Nina Masó and Javier Nieto Santa founded Santa & Cole, a company focused on editing design products. He was also co-editor of the first objects in the company's catalogue: the Colilla outdoor lamp – based on the original La Colilla design by Carles Riart, El Huevo de Colón and La Bella Durmiente, designed in conjunction with Nina Masó (1975). These last two lamps were innovative and provocative: the first exploring reflected light and the second colouring the fluorescence. Both were unveiled at the 1986 Valencia Furniture Fair, where Santa & Cole made its public début. As an editor, Ordeig continued to retrieve historic designs and reissue anonymous objects until his premature death in Barcelona in 1994.
A regular writer on design issues, his passion is clearly evidenced by the following quote: "What remains impalpable, mysterious and intangible is not the electricity, but the light."
In February 2005, to mark Santa & Cole's 20th anniversary, the monograph Gabriel Ordeig Cole was published as part of the Contemporary Design Collection by Santa & Cole and the ETSAB (Barcelona School of Architecture), as a tribute to Ordeig.