Felipe Pantone
Buenos Aires, 1986
Lives and works in Valencia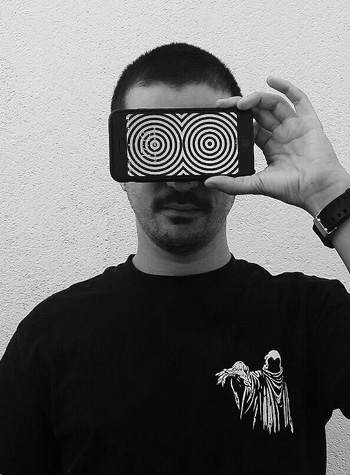 Felipe Pantone is an Argentine-Spanish visual artist. He began painting graffiti aged just 12, when his interest in art first began to blossom. He later graduated in Fine Arts from the University of Valencia (Spain). He now has a studio in that city, where he began his professional career. 
He is known for his street art style that combines elements of graphic design with geometric shapes. Pantone's work highlights issues related to current affairs, dynamism, transformation and the digital revolution. He translates the most classical geometry or pop-art to the popular culture of graffiti in a language of his own. Pantone defends the self-identity common among graffiti artists, which is why his face never appears publicly in photographs. He justifies this by saying that it is for legal protection and because he wants us to understand that his face is of little interest compared to his work.
Felipe Pantone's art explores how the movement of light influences colour and repetition, and he recalls a spirit that is at odds with the analogue past and the digital future. His work aims to be accessible and democratic, parallel to the current technological discourse. "Colour only happens because of light, and light is the only reason life happens," says Pantone.
Emerging from his works are neon gradients, geometric shapes, optical patterns and irregular grids, as can be seen in the Series: Subtractive Variability P2 (2020), Subtractive Variability P3 (2020) and Subtractive Variability P4 (2020). According to Pantone, his works are a meditation on the ways in which we consume visual information. Victor Vasarely and Carlos Cruz-Diez have been role models for Felipe Pantone. These kinetic artists used the moiré effect, that is, lines of different colours that create an impression of movement. In Pantone's work, viewers have a sense of vibration as they move. To achieve this effect, he uses 3D modelling software, which can then be reflected in frescoes, murals, paintings and even sculptures. His main goal is to detach himself from all academic information and to be able to make art freely. 
Pantone echoes the modernising work of kinetic art and its enquiry into perception based on current theories of sight. In the fast-moving world of industrial production, Felipe unbalances the naturalistic discourse of kinetic art to restore the cultural insertion of perception; the recognition of a type of chromatic combination such as the "glitch": a creative practice that consists of taking advantage of or provoking digital errors for artistic and aesthetic purposes.
In 2012, Pantone worked as an assistant to Richard Mirando, better known as Seen, who is considered the father of the graffiti movement. Pantone has showcased his work in Europe, America, Australia and Asia, including exhibiting in galleries around the world, transforming a 1994 Chevrolet Corvette into a futuristic object and painting the largest mural in Portugal. Among his most outstanding public installations are the murals commissioned by the Palais de Tokyo in Paris (France), the mosaic of the Polytechnic University of Valencia (Spain), the murals of the two buildings of the Tecnológico de Monterrey (Mexico), and the Optichromie mural commissioned by the Albright-Knox Art Gallery Public Art Initiative in Buffalo (USA).