Antoni Tàpies
Barcelona, 1923-2009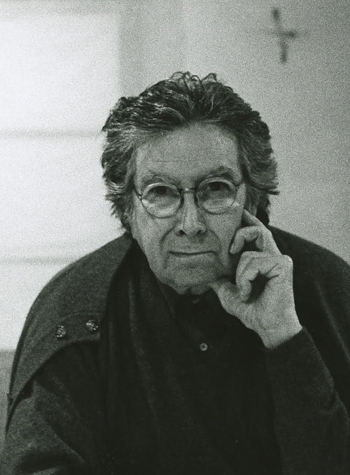 Self-taught and a symbol of Informalism, Antoni Tàpies was a prominent painter, sculptor and theorist of Spanish art. Born in Barcelona, he started his studies in Law in 1943. After three years, he left his studies to devote himself to painting. Soon after, Tàpies began to create his work from numerous materials. After the Second World War, he experimented with dust and soil, creating several engravings and collages never seen before.
In 1950, Antoni Tàpies moved to Paris, where he produced his first individual work, which became the basis for his subsequent exhibitions in Venice, New York and Sao Paulo. Informalism was born in his second wave of fame. He began to include everyday objects in his canvases, socks, wires and clay, until he took abstraction to a higher philosophical level. This is the moment when he began to stamp his works with crosses or with Latin T, highlighting his recognised seal of identity.
In 1981, Antoni Tàpies received the UNESCO prizes and the Gold Medal for Fine Arts, followed by the United Nations World Peace Prize in 1984. After his great work, King Juan Carlos I awarded him the title of Marquess for his "great contribution to the plastic arts of Spain and the world".
A prominent figure of the 20th century, Antoni Tàpies understood the importance of material nature and he showed us an impeccable work of everyday abstraction through it.