Antoni Tàpies
Barcelona, 1923-2009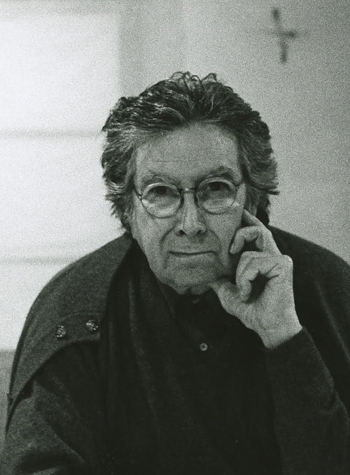 A self-taught icon of Informalism, Antoni Tàpies was a prominent Spanish painter, sculptor and art theorist. Born in Barcelona, he began studying Law in 1943, but changed tack three years later to pursue his interest in painting. According to Tàpies, his artistic vocation first emerged when he was thumbing through a Christmas edition of the magazine D'ací d'allà from 1934 in which there was a representation of the landscape of international modern art. Aged eighteen, Tàpies suffered from tuberculosis and this had a profound effect on him in the years that followed, especially in his reflection on his illness through drawing. 
Without going to art school, in 1946 he opened his own studio and experimented with a variety of materials. In a couple of years, he founded the artistic group Dau al Set together with Joan Brossa and Modest Cuixart. In 1950 he moved to Paris and continued to collaborate with the group from time to time. In the French capital, the young Tàpies began to experiment with new materials that were considered waste rather than artistic materials, such as rope or marble dust. He created material work including engravings and collages that thrilled the public of the time. Tàpies was considered a member of the surrealist movement. 
In 1950 he was selected to represent Spain at the Venice Biennale in which he participated several times in the following years. His work was exhibited worldwide, including in New York, Madrid and Sao Paolo. In 1954 he married Teresa Barba i Fàbregas with whom he had three children. 
In 1955, Antoni Tàpies went on to form the Taull group together with several members of Dau al Set. During this period, he experienced a second wave of recognition within the artistic current of Informalism. The artist began to include everyday objects in his canvases, such as socks, wires or clay, taking abstraction to a more philosophical level. He began to stamp his works with crosses or with a Latin T, highlighting his widely recognised seal of identity.
In 1970, he took a strong political stance in opposition to Franco's regime, including pro-Catalan words and symbols in his works, such as the four red bars. These actions got him into political trouble and he was even imprisoned for a short period of time. Nevertheless, his work was being exhibited worldwide and he had become an exponent of Art Informel in both his actions and his oeuvre. 
In 1981, Antoni Tàpies received the UNESCO award and Spain's Gold Medal for Fine Arts, followed by the United Nations World Peace Prize in 1984. In recognition of his outstanding work, King Juan Carlos I granted him the title of Marquis, for his "extraordinary contribution to the plastic arts of Spain and the world". He went on to contribute significantly to artistic theory, with several publications in the newspapers La Vanguardia or El Avui. Currently, Fundació Antoni Tàpies promotes his work and contemporary art.  
At the forefront of 20th-century art, Antoni Tàpies understood the importance of materiality and, through it, he showed us his exquisite work of everyday abstraction.