Alfons Borrell
Barcelona, 1931-2020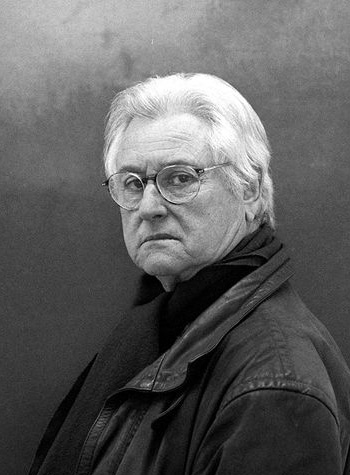 Alfons Borrell was born in Barcelona in 1931, and he spent part of his childhood there until he moved to Sabadell in 1940. In 1950, Borrell moved to Majorca to complete his military service. It was there where he had his first contact with the world of art, after meeting Herman Anglada Camarasa, a famous exponent of Catalan modernism. He attended Camarasa's workshop and at the same time met other Majorcan painters, laying the foundations for his future work.
In 1952, Alfons Borrell returned to Barcelona and enrolled in a series of drawing courses at the university's Sant Jordi Fine Arts Faculty. It was there that he met his wife Rosa and where his figurative abstract art began to emerge. At the same time, Borrell devoted himself to promoting art, helping to create the Contemporary Art Room at the Sabadell Fine Arts Academy, and contributing to the magazine Riutort. 
In 1960, he was a member of the Gallot Group from Sabadell, focusing on an artistic style somewhere between Action Painting and surrealist automatism. This style sought to reflect the sensations of movement, energy and speed through the use of bright colours and everyday materials (sand, wire, etc.) on various surfaces. Alfons Borrell made a series of surrealist works on the streets of Sabadell and Barcelona, and was also a contributor to the inaugural exhibition of the Museum of Contemporary Art in Barcelona. The Gallot Group transformed his work, leading Borrell to question his understanding of form and colour. Over time, Borrell moved towards the monochromatic representation of large surfaces, focusing on a single geometric subject. 
In 1976, Alfons Borrell took part in the exhibition Pintura Y at the Joan Miró Foundation, establishing himself as one of the most influential Catalan painters of the time along with Antoni Tàpies and Albert Ràfols Casamada. It was not long before he met Joan Brossa, the famous Catalan author of visual poetry, with whom he began an emblematic friendship. Years later he would publish a book with him. In 1979, he began to exhibit regularly at the Joan Prats Gallery, and his work was accepted by the artistic public. He subsequently exhibited in France, Germany, the United States and Japan.
He evolved as an author when he made designs for several theatres in Sabadell. Between 1983 and 1996 he also taught painting at Escuela Isla, which focused on artistic craft in Sabadell. 
In 2008, the Museum of Contemporary Art of Barcelona acquired a number of his works from the late 1960s, promoting his name in national and international exhibitions. Subsequently, Borrell received a GAC Award from the Guild of Art Galleries of Catalonia for his transcendental work in Catalan art.  
Modest and affable, Alfons Borrell's surrealist oeuvre showed unwavering commitment to the artistic enrichment of his time.